Let's take a few minutes and take a look at what's happening in the Milton Real Estate Market. Here you will find home sales and inventory for each of the Milton zip codes.
Close Price to List Price Ratio
-We are still in a Seller's Market!
Low Inventory usually means a home can sell for full price and sometimes more. This is great news for Sellers. Find a home can be quite challenging for the home buyer. It is very important to work closely with your Realtor. Your Realtor can set you up on a listing alert. When set up on an alert, when homes come on the market you can receive an email, letting you know a home has either come on the market, a price has changed on a home with your criteria or a home has closed that was with your criteria. If you are planning to buy a home, I would love to be your Realtor. I will get you set up on the alerts. Not only will I set you up on an alert but I will also have the same emails sent to myself. Why do I do this, you ask? I do this to try to ensure my customers have the best shot available to see the newly listed homes as soon as possible. Hopefully before other sellers. Shortage of Inventory can bring multiple offers. I try to ensure my customers has a fair chance at getting the house they are waiting on.
Month Close Price to Original Price Ratio
January 95.6%
February 96.8%
March 94%
April 97%
May 96%
What's Your House Worth?
Get your Estimate Instantly!
Median Days to Sell
Month Days to Sell, Median
January 37
February 71
March 44
April 40
May 99
Expired Listings
How does a listing expire in a very low inventory market?
It could be many reason. It could be a lot of competition in that particular neighborhood, other homes could show better, and have a more attractive price.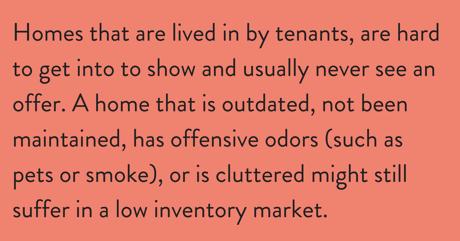 Price is usually the largest factor.
Month Expired Listings, Number of
January 8
February 5
March 6
April 2
May 5
As you can see there are not many homes that are expiring. Most are selling pretty quick. With low inventory there are no but a few homes for buyers to choose from. Most of today's buyers are watching the market so when the home that matches their criteria comes available to sell they are ready to schedule a showing in hopes of beating the other buyers who are also just waiting for it to hit the market.
List Price to Square Foot Ratio
Prices in Milton are fluctuating.
Month List Price by SqFt Ratio
January $120 (new construction competition)
February $114 (new construction competition)
March $100
April $105
May $
Median List Price
Removing the highest priced and the lowest priced home in Milton Florida, we arrived at the median price for the area.
Month List Price, Median
January $254,048
February $271,725
March $214,900
April $227,900
May $199,000
Months of Inventory
January 71
February 87
March 126
April 201
May 261
Number of New Listings
Month New Listings, Number of
January 16
February 16
March 32
April 62
May 71
Median Sale Price Sold Listing, Median Price
January $169,000
February $163,400
March $175,000
April $164,757
May $169,900
Total Home Sales
January 55
February 57
March 85
April 83
May 99
Milton Zip Codes - Homes for Sale
Milton Housing Market Reports from 2018
View the
Full Milton Real Estate Market Report
Here.